ISORA 2017 Race 3 Holyhead to Dun Laoghaire
ISORA – bloody hell. One steps off the offshore roundabout for the final couple of races last season due to "personal circumstances" and returns this year to a completely different canvas. What the actual hell is going on? Eleventy billion boats on the start line in Holyhead? A new fancy website? An updated Facebook page that posts nearly daily? The wonderfully erudite scribe that is W.M. Nixon writing a detailed and lengthy ISORA season preview?
Erm, hello, when exactly did we start getting big? Big as in race reports on Yachts & Yachting as well as Afloat. Big as in one of the largest ISORA fleets in years hitting the start line. Big as in three young fillies manning the finish line with proper functioning VHF radios so they actually reply to your announcing your impending arrival and then have the cheek to not only notify you of when you cross the line but also have the temerity to welcome you to Dun Laoghaire? Ah here, stop the world, I want to get off!
Clearly good work behind the scenes has seen young Messers Ryan and Tudor pulling out all the stops on both sides of the Irish Sea to bring ISORA back to it's halcyon days of the '70's in terms of competitor numbers. On even years when boats are looking to qualify for the bi annual Round Ireland we are well used to newcomers getting early season ISORA's under their belts for qualifying purposes and then disappearing back into the ether. But this is an odd year. No Round Ireland this season yet thirty two competitors hit the start line? Thirty two? I counted five new competitors from the Irish side in Platinum Blonde, Samatom, Elandra (returning under new ownership), Thisbe and Oystercatcher as well as three newcomers from the other side in Charlene Howards American/ Manx AJ Wanderlust, Liverpool YC's Darling and the returning, ever green, Ducati riding, Neal Eatough in the very impressive and fast Forty Shades. Loike, OMG, what the actual is going on here goys?
***************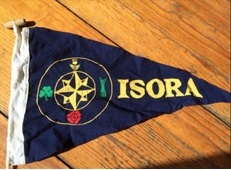 Friday is moving day. No change there. A late evening departure sees Lula Belle slip quietly out of Dun Laoghaire at 21.00 hrs to motor nine hours overnight to Holyhead for an 08.00 hrs start. Horrible dark black misty cold night. This feels familiar. He takes the first and the last of the two hour watches with the Skipper. It rains both watches. This also feels familiar. He muses that isn't this a lovely way to spend his FIAF (fuck it all Friday) motoring over to gloomy Holyhead in mist and rain, sucking on an unpronouncably named can of cheap,luke warm, German Lidl lager whilst dragging forlornly on a cheroot pretending to himself that yep, this is the craic alright. Miserable? Oh yeah baby, and so it bloody should be. It's a Holyhead race. After ten seasons of ISORA he files any Holyhead race in his head under the nomenclature of "the Angela's Ashes" of ISORA races. Unfair on Holyhead itself? Perhaps. Maybe. Maybe not.
Saturday. Start line. Ten minutes to the gun. Loads of wind – more than enough. This is going to be a hard day at the office. Boats everywhere – like bees around a honey pot. Jaysus, he thinks – we're in for an epic battle at the start line here, my man. A blind man's guide dog could foretell that the pier end will be the obvious preferred strategic starting position but hark, is that the Stena Adventure blasting all out of their race faces whilst announcing that hey guys, you WAFI's may be doing your yachtie thingy out there but pardon me while I steam my 43,000 tonnes of steel out of the harbour and knock your little toy boatie thingys aside like skittles. Like who in their right mind (Peter?) would schedule an ISORA race start for the same time as a giant Ro Ro ferry's scheduled departure from one of Britain's busiest ferry ports? Oh dear, and we were doing so well.
So, it's no surprise that the heroes stick to their guns and take position just off the pier, tauntingly daring the Stena to plow through them. Show me a hero and I'll write you a tragedy? Anyone? The chickens (or those with a tighter annual sailing budget, who like the thought of living just a little bit longer and with no nonsense marine insurance companies) take the more prudent step and spread out all the way down the very generous start line to the Clippera Buoy. He who turns and runs away, lives to fight another day, and all that.
08.00 hrs. Start gun. It becomes plainly obvious that with a steady 20 knots of wind just off the nose enough to make it a fetch and forecast to go south as the fleet rounds the M2, that today is going to be a drag race. Big waterline boats will have a field day today. If the forecast is accurate it may even be a one tack race. And so it proves. Just after the start the fleet splits in two which helps the Stena Adventure to plough straight out of the harbour and not actually kill any yachties. They were probably crestfallen, he thinks.
All on the rail. Padded leggings help numb the pounding but are they guaranteed for a nine hour shift? He suspects not. He eyes up his fellow crew members and wonders who's going to puke first. He prays it won't be him. He lucks out over the nine hours – it isn't him but further down the course they do have the one obligatory vom merchant. It's unfortunate (for others) that he is the bowman and therefore to weather on the rail. He appreciates his own ten years of experience that sees him fourth on the rail and therefore well shielded by the gullibles further windward of him. Lucky or shrewd? Hmm, who knows? He does, though, marvel at the glorious sight of thirty two yachts steaming away from Holyhead like prisoners staging a jailbreak. Oystercatcher looks in trouble and heads so far south they must be retiring. Ah sailing, the art of staying cold and wet while destroying expensive stuff. Same old same old with ISORA.
They pound relentlessly across the cold black, uninviting, miserably choppy Irish Sea. And in the silence on the rail he ponders once again - we do this why? Hour after hour. The skipper, safe aft on the helm, has the decency to shout "WAVE" at the frozen crew on the rail when a big one is incoming. They wonder is it a sadistic forewarning or genuine sympathy. It's like the ice bucket challenge but he feels that the ice bucket challenge wouldn't have a patch on getting dunked by an early May cold and angry Irish Sea. Mid morning the skipper misjudges one and despite his best efforts all six on board, even the old cunning bastards hiding in the cockpit pretending that they are trimming, or discussing tactics, get completely soaked. C'est la vie – c'est ISORA.
Round the M2 and harden up on the same tack, heading for the South Burford now. Homeward bound of sorts. To reef or not to reef – that is the question. They procrastinate. He knows that procrastination is the thief of time. They decide not to reef. Visibility is so poor it's hard to see what's going on up ahead in the main body of the fleet.
Round South Burford, bear away and suddenly the bargaining he had done in his head for the previous eight hours of hard, unrelenting pounding was becoming obsolete. Bargaining with his barely conscious self that he was giving this nonsense up as soon as they docked in Dun Laoghaire. Like FFS, he was over fifty, what exactly was he doing volunteering, season in, season out, for this ridiculous daredevil shit? Bargaining, rationally he thought at that vulnerable time, that he had ten seasons of ISORA offshore under his belt, two Round Irelands, a couple of D2D's, nothing left to prove to himself, might buy another motorbike as you never felt seasick or miserable on a bike (a new Africa Twin sounds nice), might even (God forgive him but he felt so weak) give round the cans a shot.
And suddenly, like a Phoenix rising from the ashes, Lula Belle is surfing into Dun Laoghaire at 9 knots. Life is good, the puker isn't a shade of aqua marine/turquoise anymore. It's not bloody freezing, he fancies a large bottle of Bulmers, they might even dock in time to catch the second half of the Nigels Cup Final on the tellybox (G'wan Clermont!). There are warm sounding wimmin on the VHF welcoming us home to Dun Laoghaire and sure maybe we'll give it a shot again in a couple of weeks.
Mr. Blair (or as Jarry calls him, Mr. Blurr) had D'reams "Things can only get better" as his campaign song back in the 1997 Labour Party landslide victory. Things can only get better? Quite.
ISORA – plus ca change, plus c'est la meme chose.
Sure we wouldn't have it any other way.
Go offshore – real boats race offshore!
Fogra – well done to the venerable Mr. Paul O Higgins SC on his maiden ISORA victory aboard Rockabill V1. Special mention also to the wonderful Charlene Howard on the Manx registered, American influenced, AJ Wanderlust on winning Class 2 in her maiden race. Delighted for you Charlene. Now, Kuba who?