ISORA 2016 Race 4 Holyhead to Dun Laoghaire
Holyhead. Strange place? Perhaps. Mention the name Holyhead in Ireland and an older generation of people will think of pre Ryanair days, pre Italia '90 days, those black and white telly days and the sad, lonely and mostly unwanted trip that many thousands of Irish people took in the 60's, 70's and 80's (Jaysus that was a thirty year recession, wasn't it?) as they endured forced emigration to that most Perfidious Albion. Weird that Holyhead is actually in Wales but for our Irish emigrants it's dreaded name conjures up deep seated uncomfortable memories of their first port of call, to be followed by a long, usually overnight, train journey down through the spine of England (Chester and Crewe stations ring a bell – Crewe in particular, squaddies anyone?) before finally reaching the streets of London. Not paved with gold as they soon found out. No blacks, no dogs and no Irish. Indeed.
Yet now, in the new, grown up, mature and back in the boom Ireland (keep the recovery going, Inda!) I venture that the mention of Holyhead will draw blank expressions from our current, urban chic, uber confident new generation Irish (not hipsters though, I hate hipsters, no hipsters allowed). And that's no bad thing. Nothing wrong with reinventing oneself. For the Holyhead of today is, for us ISORA competitors, a key port in our annual cross channel series rather than a harbinger of doom and gloom (allegedly). Although the oft experienced inability to enter the harbour mouth due to it's vicious tidal steam is in many ways an homage to the previous generations unwanted entry to said harbour. So hands up fellow ISORAians (is that an actual word?) – how many of us have tacked left and right against a foul tide within touching distance of the finish line at the smirking mouth of Holyhead harbour but ultimately ended frustrated, tired and emotional at our inability to get across that line? Hmm, I thought so.
The new 21st century Holyhead is trying hard. Twinned with Greystones, Co. Wicklow– how ironic is that? Let me explain. I live in Greystones – W4 as opposed to D4 as my Wickla bred, pseudo posh, wannbe D4 daughters refer to it. Greystones – the world's most livable community as awarded by the United Nations Environment Programme in 2008. A nice place to live (as opposed to "Naas – a nice place to shop") and to bring up kids with unrivalled facilities including a brand spanking new harbour and marina – nice for a yachtie, or is that a WAFI, father of three kids. Ok granted I have only lived here for 18 years so am still a blow in. But 18 brilliant years raising a family in a picture postcard award winning beautiful seaside village and what are we doing? Eh, moving to the big smoke.
Don't ask 'cause, to be honest, I don't know why either. Cheaper than a divorce I reckon, so hey, go with the flow you downtrodden, emasculated broken man. I actually blame the engineer who designed the junction where the N11 merges with the M50 – years upon years of tailbacks on the daily commute finally broke the Minister – so thanks very much Mr. Engineer – it's your bloody fault.
So I missed the last ISORA race over to Holyhead due to being caught up in a minefield of property stuff. Think the fundamental seafaring navigational process of a cocked hat of location, location, location. Think estate agents, budget stretching and trading up or trading down dilemmata in terms of square footage. Think BER ratings, property orientation, double glazing versus chic olde worlde sash windows that while looking authentic will more than likely have you sitting in sleeping bags in the house just to keep warm. Think old period house versus new build, public transport links, open house viewing. Think Irish Times Property Supplement of a Thursday, Indo of a Friday or the Business Post Property over Sunday breakfast – yada, yada, yada. Oh and of course the obligatory stripping yourself naked (metaphorically of course) and letting a bank almost stick probes up your back passage in an embarrassing submission to not piss them off in any way so that they will be kind enough to let you borrow so much money that they will more or less own your lives for the next 15 years. Did I forget to mention? The Celtic Phoenix has risen guys – big brother to the Celtic Tiger who passed away in a most dramatic fashion about ten years ago. Property folks, invest in property – it can't fail, can it? Who was it again who said stupidity is doing the same thing over and over yet expecting a different result? He may have been on to something, that dude.
And so to last Saturdays ISORA – back on the horse. Holyhead to Dun Laoghaire – scheduled at 100 miles – weighted at 1.3 for scoring and a long race for competitors to clock up qualifying mileage for the upcoming biannual Round Ireland. Oh yeah, great - been waiting a while for a Holyhead race. These blogs don't just write themselves you know. Some prior preparation (to prevent piss poor performance – the 6 p's and all that) tends to help. So as I drove around Ireland for work purposes during Ireland's never ending atrocious wet winter (I do all my best thinking on long car journeys) a long forgotten classic poem suddenly came to mind.
The bould John Milton and his classic "Paradise Lost" probably haunts ex Leaving Certificate students to this very day. Not me though. I kinda got it and can recite loads of lines to this day.
"Better to reign in hell, than serve in heaven"
Hey, you and I both know that if you studied "Paradise Lost" then you just said those lines in your head – admit it. Miltons "Paradise Lost" was on the syllabus back in my heyday of 1982 but we decided, in a sort of warped sense of self-inflicted punishment to give old "Lycidas" by Mr. Milton a shot too – as you do – go on the Jesuits. Good man Gerry Lynch, my guitar playing ultra cool English teacher.
So "Lycidas" – an ode to one of Milton's friends from Chester who drowned when his ship sank in the Irish Sea off the coast of Wales in the summer of 1637. Deadly, let's work that into an upcoming blog. The metaphors will spew out of me and it'll make great reading. Particularly an Irish Sea crossing resembling being trapped in a washing machine during a violent gale. When things get real competitive. Competitive in terms of winning but also in terms of actually surviving. Competitive? Oh yeah, I'm competitive and also love the heavy stuff – like really heavy. So with Lycidas on hold and waiting to be copy and pasted into a blog, preferably one about an horrendous Irish Sea crossing (and Chester is only about an hour from Holyhead) I thought all the stars were aligned for a classic, Booker nominated, essay. And we get? A mill pond – ah here, FFS.
"Yet once more, O ye laurels, and once more,
Ye myrtles brown, with ivy never sere,
I come to pluck your berries harsh and crude,
And with forced fingers rude
Shatter your leaves before the mellowing year."
So now all I've got from the above quote is proof that learning by rote does actually work as I can still remember these opening lines. And remember all about open verse versus iambic pentameter and all that. From memory. Go me. Pity about the race though. A mill pond. On the Irish Sea? Who would have thought? Ah Jaysus.
So 28 boats, including a motely crew consisting of the veteran (!) offshore maestro Mick Hogan, both Martin Frayne & Alo Mc Goldrick (collectively "the Poolbeg Massive") et moi on champion sailor, budding politician and all round Mac Gyver Liam Coyne's Lula Belle rock up to the start line and drift, with tidal help, very slowly, like very very slowly away from Holyhead. Jedi misses the race as despite travelling over the previous day, Andrew was decidedly unwell and being nursed by Mary – I could think of many worse nurses, so every cloud and all that…!
There's not really much to say about this race. Drift and no wind kinda covers it. So we drift along, code zero up, code zero down, A1 up as we very slowly head for the first virtual mark at the bottom SE corner of the TSZ. Some rounded it, some ploughed straight through it without even remotely rounding it and some poor miserable unfortunates didn't even make it that far. Welcome to ISORA dudes. And a word of recognition for the remarkable Captain Fogerty. Did he really arrive in Howth on a single handed (and all by himself!) voyage back from Antigua on Friday morning, pick up a crew member, and overnight to Holyhead so Bam would make the start. He did you know – respect or certifiable? You decide.
Drift across the Irish Sea. Never more than 8 knots of wind all day (and all night). The true sailors really come to the fore in the light stuff – any gobshite can move in a gale, not so much when there is no wind. The cream rises to the top. After what feels like an eternity (it was 16 hours and felt every single goddamn minute of it) we finally round Rockabill – yay! Not long to the finish now, we lie to ourselves. Liam is like the Duracell bunny tweaking, pushing, experimenting, trying everything he can to get another ounce of SOG out of Lula Belle – this guy didn't win the RBI for nothing. Check Yellow Brick for a race update and find Lula Belle is appearing off the Ivory Coast – no joking and it felt like it in terms of time on the water to be honest!
We joke about the upcoming (sometime before July we hope) virtual finish out off the Kish, courtesy of Yellow Brick this time. Technology huh? One wonders if the beautiful Kathryn Meghen, stalwart ISORA finisher for yonks and yonks is rocking herself up to the LRC, WRC or whatever they are calling themselves nowadays to hammer out a severance package / redundancy deal. Was she served with the required notice period? Is her position being made officially redundant? A human being replaced by a computer - was SIPTU consulted? Can't see Jacko agreeing to that one.
We wonder how much Chairman Ryan, after the finishing faux pas that we're not allowed talk about and thus didn't happen a few races previously is worrying about his first virtual finish. Is he what! Will the teenage Grainne really be sitting up at 04.00hrs increasing the Yellow Brick pings to every five seconds? Like c'mon. Will she even be home from Club 92 yet? Peter's definitely in the worry shop.
At c.04.50hrs we crawl across the finish line hoping Yellow Brick has noted our time – good girl Sharon Grainne – shattered after over twenty hours of racing. Exhausted but not a bad result for us. Jacknife gain line honours. Adelie and Mojito suffer heartbreak, yet again. After a fantastic tussle at the head of the fleet they both unfortunately snatch defeat from the jaws of victory. Big Deal with Derek and Conor Dillon win everything on corrected time – overall, Class 2, Silver Fleet and two handed. Jeez they probably could have played for Connaught in the Pro 12 final too and won that as well. Fantastic performance by them. We had a great tussle with them over the last couple of hours, swapping places on the water but astonished that they were doing so well. Congrats men – you have a habit of rocking up to ISORA on Round Ireland years and achieving greatness.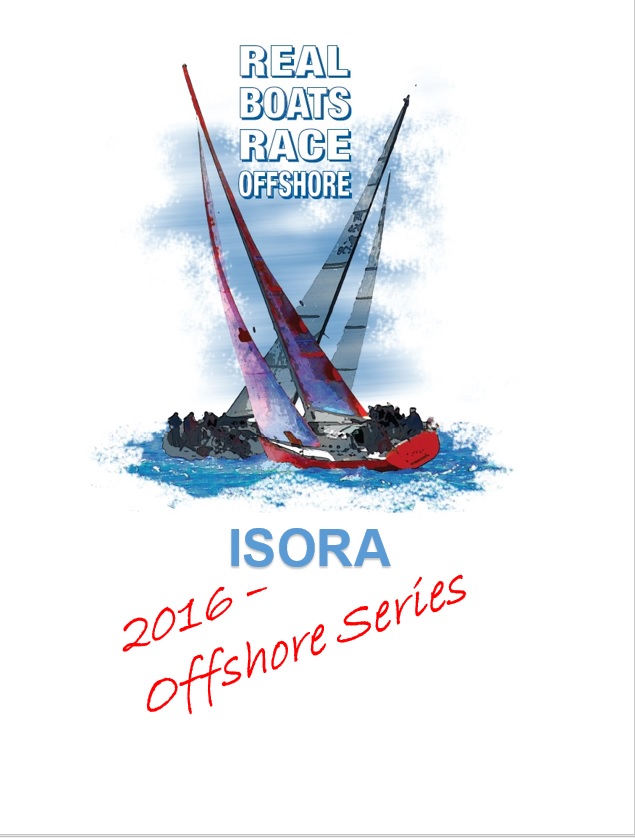 So despite the lack of wind, with 29 starters ISORA goes from strength to strength and it's great to see new entrants from Conway, Greystones, Poolbeg and Howth. Now, about Howth. Dave Cullen and Storm / Euro Car Parks is rumoured to be lamenting his return to the series. Lack of wind and drifting past Lambay is not his idea of fun. Indeed it is also rumoured that the, founded 30 years ago by Howth's Stephen Harris, IHORA (I hate offshore racing association) may be getting dusted down for membership renewal. Now lads, that's not in the spirit of what we are about.
So Milton's "Better to reign in hell than serve in heaven?" Kinda sums up the feelings of those who endured a twenty hour ISORA and finished it – no?
Go Offshore – Real Boats Race Offshore!
Fogra – the words of the author are solely his and in no way reflect the thoughts of ISORA, although they may very well reflect those of IHORA. Peter Ryan and Stephen Tudor completely disassociate themselves from this blog. ISORA has no money so don't bother your arse trying to sue for defamation or plagiarism. Just sayin'.
Fogra eile – how do you like this one Gavin Cumiskey?