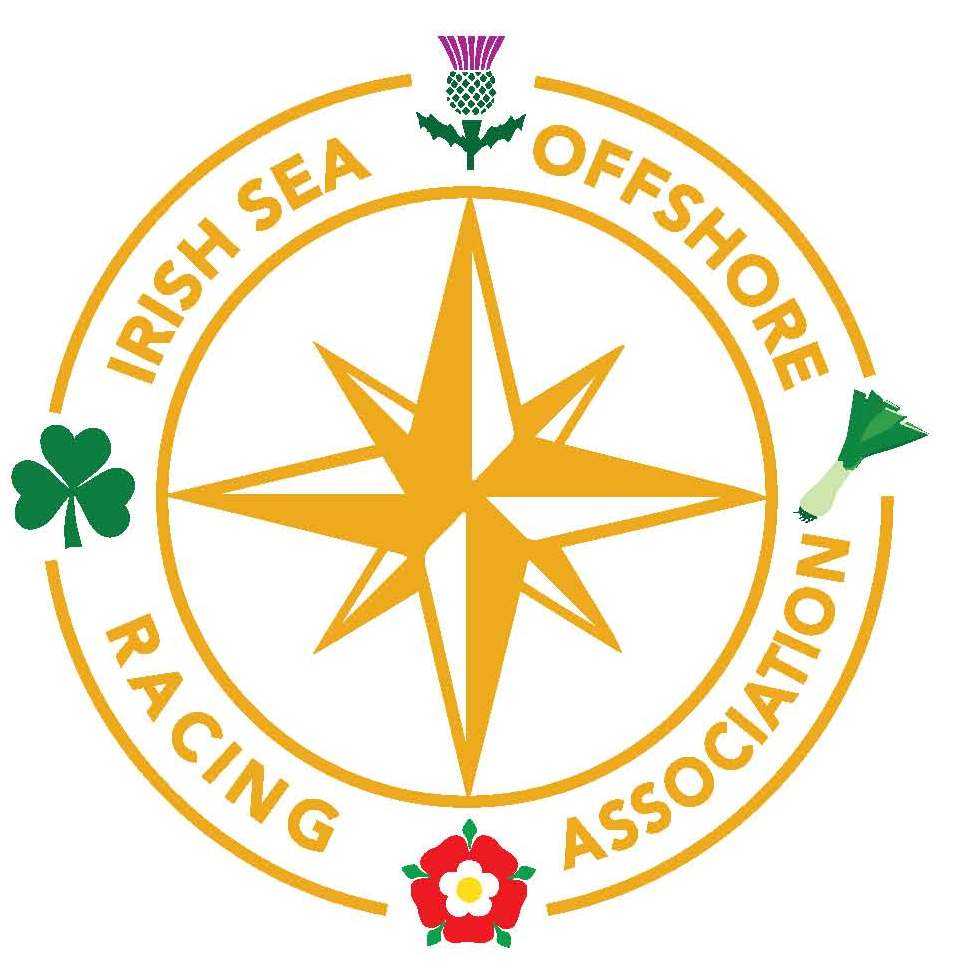 ISORA Race 7 / Lyver Race – Holyhead to Dun Laoghaire (via mayhem and pain)
A forestay wrap – now here is a nice little culinary dish that I have never actually prepared before but it has always been on my menu of things to try and serve up. I tried to create this many times during my apprenticeship but to no avail. Many of my more esteemed master colleagues have similarly attempted to cook this one up over the years but only a select few have succeeded. After a number of failed attempts on my own behalf, last Friday evening saw the perfect conditions to try and really give this tricky but memorable creation an attempt and to finally produce this tasty masterpiece for the first time. To prepare this really sumptuous dish you will need the following:
Ingredients:
- 6 experienced but middle aged ISORA sailors – just short of what you really feel comfortable with on a big boat flying a kite – a full compliment of 8 will see this attempt fail miserably as you will be too comfortable and in more control
- One very large yacht (an Oceannis 411 would be an excellent choice)
- One very large symmetric spinnaker (I find asymmetric bow sprit rigged versions don't quite give the same flavour, but each to their own)
- One spinnaker pole of the old fashioned mast rigged variety – excellent for spearing you in the sternum as you scramble around up for'ad when it all goes pear shaped
- A steady 20 knots of wind (gusting up to 30 knots) and a great big following sea (the Irish Sea is particularly recommended if you really want to make this a memorable repast)
- Total darkness is particularly desirable just to add a certain frisson of spice
Preparation:
- Attach your safety harness. This will guarantee your safety but make your movement somewhat restricted when the shit hits the fan
- Make sure to lull yourself into such a false sense of security that you think you are invincible
- It is recommended to keep your kite up even after a couple of large round ups. This is a good signal that the forestay wrap is imminent
- Extra flavour can be achieved by marinating for hours in Irish Sea torrential rain
To Serve:
- Once you achieve a monstrous broach this is your signal that your outrageous creation is just about ready to serve
- Make sure to serve with a large dollop of humility for extra flavour
- Some masters tend to adorn their creations with sparklers for dramatic effect as they leave the kitchen. I prefer and indeed recommend a good old fashioned Irish Sea lightning storm as a must
- Serve on a clammy, humid but wild night, sit back and enjoy!
To review this creative masterpiece and with the words of all the great chefs ringing in my ears – here's one I prepared earlier…………….
We get a fantastic start. Aubrey Leggett (guesting from Elandra) on the helm. Downwind start – always bloody tricky on big boats. Mainsail only until one minute warning signal then we pop the kite. Twenty five starters. Middle of the line sees a huge runway of space open up for us to charge through – good luck and thanks. Roar off leaving Polished Manx and Windshift behind. Our two biggest ISORA Silver Fleet threats astern. Nice work Yahtzee. We plough on. Just under 20 knots of warm summer breeze now after lightish start. Broad reach, close to a dead run for us. Spectacular sight with all the coloured stuff up as the fleet heads thundering off from Wales to the first of two virtual marks in the Irish Sea. We are towards the back third of the fleet but the leaders are not pulling away too rapidly from us. We could do well tonight. Good boat speed up. Easterly expected to increase and veer southerly and by midnight should be gusting over 30 knots. Will then eventually go south west. That will mean a beat all the way down from off the Isle of Man – again. FFS – we are not impressed with this course. Where's the Stugeron?
Henry, our skipper, discusses tactics especially re flying the kite short handed in the dark and with a building wind. Consensus is that we will get to first virtual mark and then probably drop it but will assess the wind strength when we get there. A couple of hours in now. Starting to get dark. Whoa, the sea is starting to get very big all of a sudden. And here comes the wind too. Over 20 knots now. We are flying along but she is also starting to round up quite dramatically on the big gusts. Coming up to the mark now, getting ready to harden up slightly. Decision time re the kite. While we had a couple of round ups we still feel we can hold it.
Round the virtual mark. Harden up to new course of 330 true. Storming along and then…bang. Big broach – like huge. I'm trimming the sheet and notice that mainsail boom has dipped under the spinnaker sheet in the broach and sheet is now about 6 feet up above the boom and as it is bar taut it's digging heavily into the mainsail. Not good. Load the lazy guy and after a couple of attempts we manage to free the sheet back under the boom. We are screaming along now but need to drop this kite quick smart before we do serious damage. Of course we don't realise at the time that when you are thinking like that it is already too bloody late. It's also nearly fully dark now. I head up to the bow to release the pin on the guy and dump this kite before we get into serious trouble. All in position ready for the drop. I release the pin but something is not right. What the hell is going on here? The kite is flapping wildly but not coming down. No panic but this situation is not good – not good at all. The kite is wrapped around the forestay a couple of feet from the top. The spinnaker sheet is also wrapped in a vice like grip around the kite in the same area. And in the crème de la crème of complete cock ups it appears the spinnaker pole uphaul is also wrapped around the kite in the same position. Merde.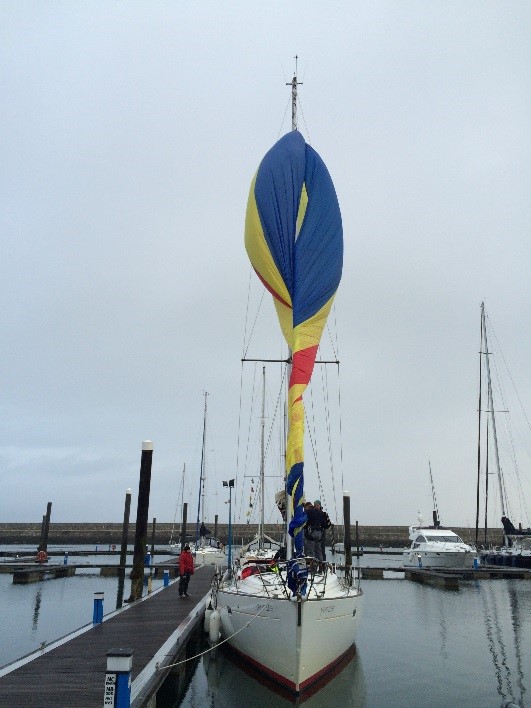 Even with the kite stuck and with only the full mainsail up we are roaring along. How to fix this? And fast? The sea is now fully engaged too so being up front is like standing up on a roller coaster. Got to get the pole out of the way first so we can then concentrate on fixing this mess. Domhnall joins me up front. Yahtzee is pitching and rolling quite violently. As we haul the pole in I get full on stabbed in the sternum by it. Excellent – just what I needed. We eventually secure the pole back onto the mast and move to try and free the kite. In the darkness it is hard to see exactly how it is wrapped. Domhnall is a big tall man and spends quite some time trying to catch the wildly flapping tack of the kite but to no avail. Henry joins us up front. We assess the situation. I suggest cutting the sheet but he rightly points out that that will solve nothing as we need something to hold on to if we are to have any joy in unwrapping. Domhnall tries the boathook to catch the flailing tack. He gets agonisingly close but in the violent pitching of the bow the boathook goes overboard. Merde noir. We're fully 30 minutes into this fiasco up front now and still with no solution in sight. This kite is also going to blow out shortly if we don't solve this. We have a tete a tete. Decide to abandon the race. Decide to put double reef in main to try and gain some control and to cut and run for home. Between the belt of the boom in the sternum and the violent pitching in the now 30+ knots of wind the inevitable happens – I get seasick and puke over the side. Can this night get any worse? We try one last shot. We do a couple of 360's to see if the kite will unwrap itself. No joy but to be fair in the pitch black night (although we had a torch) it is hard to see exactly how badly wrapped this kite is.
Both Domhnall and I sit exhausted up front to try and recover. We discuss again what happened and if there is any solution. It's a man up the mast job but in this weather that's just out of the question. We ponder on any other options. I puke again. We retire to the relative comfort of the cockpit as Yahtzee begins the journey home. Chastened, annoyed, embarrassed, exhausted but at least we are safe. It's fairly full on out here now and we question if we will be the only ones to get into difficulty tonight. We start watches and 3 retire down below to get some rest. The heavens open and the lightning storm that has been raging for the last few hours is fairly spectacular but to be honest we are so miserable at this stage that we ignore it.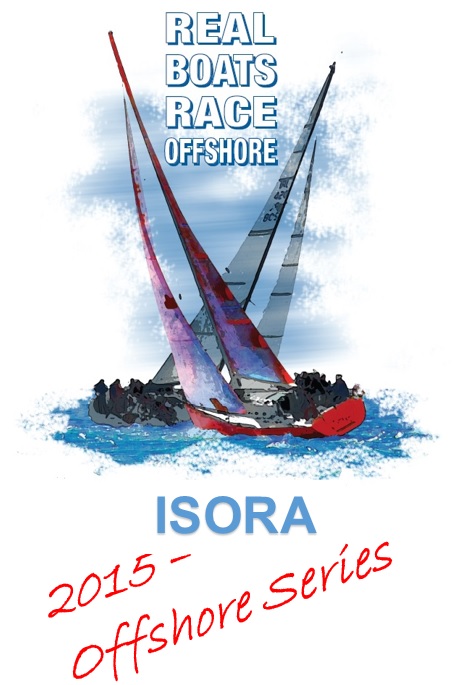 At 05.30hrs we limp in to Dun Laoghaire. Incredibly Jacknife is charging in to the finish having unbelievably completed the course in just under 10 hours. Richard, our absentee owner and skipper, meets us on the pontoon. Why does all the bad stuff happen when the owner isn't on board? Now there's a million dollar question. He is remarkably sanguine about our mishap. Henry goes up the mast and we retrieve a torn and very twisted kite.
Another hard day and night at sea. Another hard ISORA – is there any other sort? At a party two weeks previous, in conversation with a noted round the cans racer, his description of offshore racing when he heard I participated was one small succinct adjective – raw. He is damn right about that. I meet Richard Tudor from Jacknife, returning from his shower and change of gear, on the pontoon heading back to his boat. He commiserates on our mishap. I notice the man can't actually walk properly and appears to be in considerable pain. I comment on this. He replies that indeed he can't walk properly and that it was like being on a speedboat out there last night such were the speeds they achieved. Indeed.
Real Boats Race Offshore!