By Simon Byrne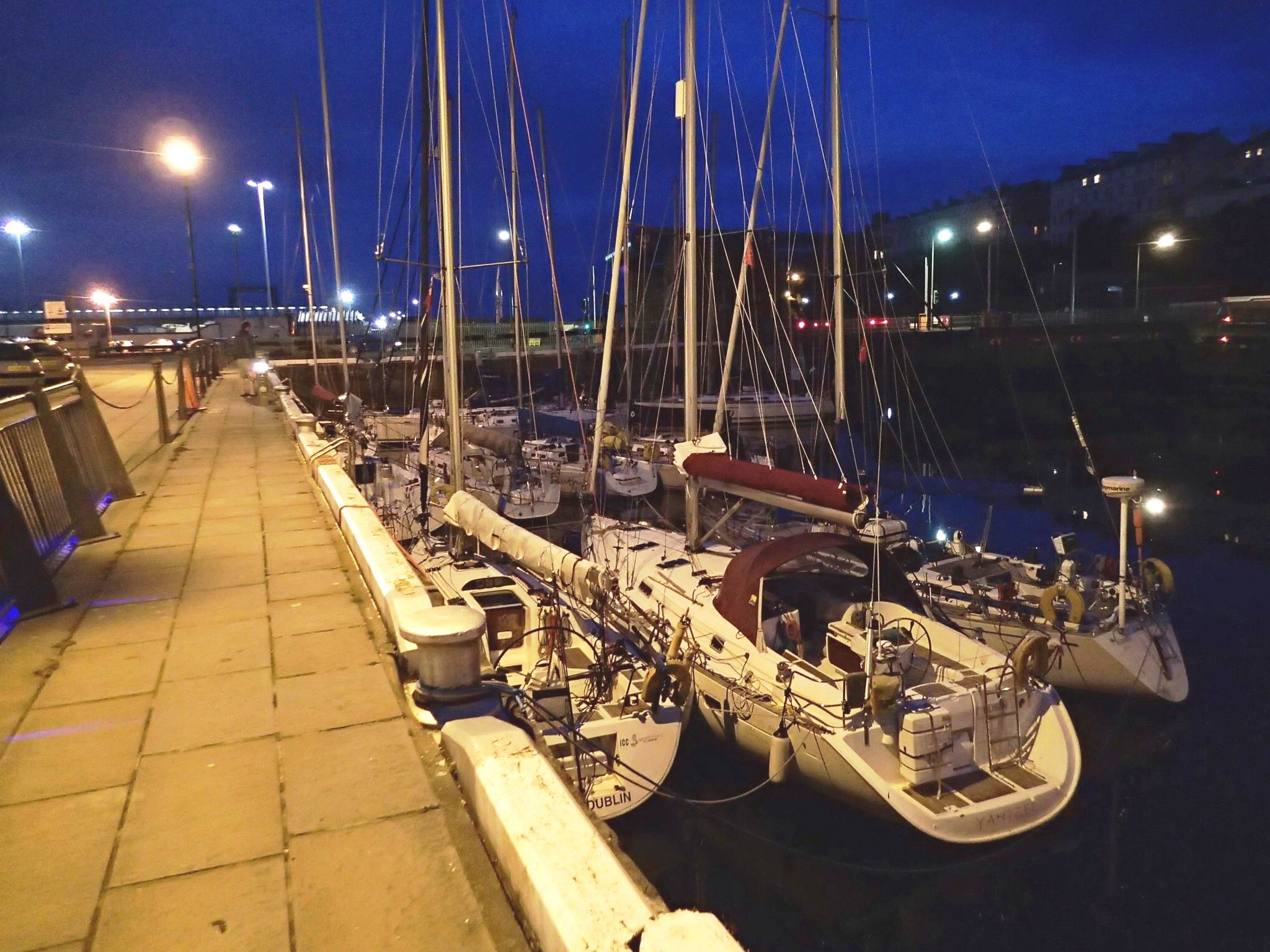 Where to start? Like seriously, where does one begin to even attempt to get across on paper what was one of the best ISORA weekends in certainly the seven seasons that I have been a competitor. This double race weekend had it all – what Uncle Gaybo would have described as "one for everybody in the audience". Eighteen starters for Friday night's race from Holyhead to Douglas and further random assorted enthusiasts/masochists travelling direct from Dun Laoghaire to Douglas on Saturday to swell the fleet to an impressive twenty two starters for Sundays return 06.30hrs drag race straight back to Dun Laoghaire. Dolphins, Porpoises and Minke Whales. The college kids resurfaced (Howya Oisin!). Mammoth cruise liners, car ferries and cargo ships as moving obstacles. Up to thirty seven hours on the water racing (allegedly). Most of us were in more holes this weekend than an Irish Water meter installer has been over the last twelve months. An estimated one hundred and forty WAFI's (Wind Assisted Feckin Idiots) charging up and down the Irish Sea in pursuit of victory, craic, pints and the shift (not of the wind variety as we had enough of those on the water) made this a memorable festival of ISORA madness. The vibe of Saturday's new Ireland, first in the world to legislate for same sex marriage (though I can't see what the big deal was myself as I've been having the same sex with my wife for the last seventeen years of marriage - boom!) had quite clearly added a certain frisson of excitement, giddiness and perhaps euphoria to the festivities in Douglas Bay SC on Saturday evening. Where to start indeed.
07.30hrs Friday and Yahtzee swiftly departs after some local living crew members queued outside nearby polling stations, determined to cast their vote and play their part in what was predicted to be as historic a moment in this Free States (and subsequently Republic's) short ninety three year history as anything that had gone previously. An uprising. A war of independence. The Treaty and subsequent assassination of the now exhalted Michael Collins. The lifting of the ban on foreign sports. The lifting of the ban on women continuing in the workforce after marriage. A couple of divorce referenda (yes, on the second attempt). Five abortion referenda in thirty years (and still a no). The Euro replacing the Punt. An Anglo Irish Agreement. Three Nice Treaty referenda (well they just persisted with asking on that one until they got the result they wanted). The fall of the Catholic Church's vice like grip. An economic collapse of cataclysmic proportions. And finally this same sex marriage referendum which, if passed, would be the final unshackling of our new Ireland from being a backward little inward thinking nation to breaking free and shouting at the world "look at us. Look what we are doing here. Equal rights for all. Gay, straight, whatever you're having yourself – no matter. And we're the bloody world leaders on this front. Check us out. Look how far we have travelled. D'ya wanna be in our gang? No more Banana Republic, Mr. Geldof. Go us! So back to the sailing. A bit of perspective here first. On the last weekend in April 2009, the Minister and I, with about forty others, went on what must have been the very last ever junket in Irish business (what with the Celtic Tiger now absolutely dead, buried and but a distant warm memory) to Crackow in Poland for a long, energy sapping weekend. Political correctness, and the remote possibility that a member of the Revenue Commissioners may ever stumble across this account, implores me to change that statement. In fact we were on a work related "study tour" – yeah, I know exactly what you're thinking and you're damn right, as the only true study done was of the numerous brands of Polish vodka found in various restaurants and bars over a lazy, hazy, alcohol soaked four days. I must point out, however, for the benefit of the Revenue, that there was, in fact, a three hour early morning meeting with some Polish business counterparts to satisfy any study tour compliance issues. Needless to say, as a "significant other" and therefore neither entitled nor required in attendance, I lounged in my scratcher nursing a hangover for that one.
The Minister, my wife, derives her nickname from when one day, while feeling particularly weak, I volunteered, or was that I was commandeered, to drive her to work. She settled in silently to The Irish Times as I roared up the N11 (I think she was viewing me as her staff driver, and we all know that when you are really important you never converse with the staff). Suddenly that silence was shattered with a grumble of "oh, for Christsake!", and a rustle of the paper as she reached for her mobile. Oh oh, trouble ahead one suspects. Handsfree ensured I was party to an interesting conversation. She dialed some poor Government Ministers office, announced her importance, expressed her annoyance that she couldn't speak to the Minister personally, but got through to his private secretary and proceeded to fillet the poor guy over some misinformation relating to her area of employment published in that mornings Irish Times. My guess is, he ventured outside for a couple of smokes after she finished with him – regardless of whether he was a smoker or not – such was the severity of her wrath, although exquisitely delivered as always in a soft velvety tone as only a woman can. Welcome to my world buddy! I actually felt sorry for him. Anyway, as I dropped her to the door of her office I announced" Now Minister, what time would you like the car back to collect you?" As she burst out laughing I could see that she actually loved this so that was it, she was known in our house as "The Minister" from that day forward. Minister for what you might ask? Take your pick, Environment, Home Affairs, War Office, Charisma – doesn't really matter, she was "THE MINISTER".
So back to Crackow. Over dinner one night, don't ask me which particular night as they all sort of blended in together, as I pushed on manfully in my endeavor to help the struggling Polish economy by single-handedly boosting the sales of their native vodka, my now Skipper Richard, who himself was halfway through some Mediterranean vineyard, announces that the Minister informs him that I have sailing experience from a previous life (I refer to that period before marriage and kids as "a previous life"), that he himself has sailed all his life and currently has a Beneteau Oceanis 411 moored in Dun Laoghaire marina and is always on the lookout for new crew members. Would I be interested? Yes I bloody would mate, but even in my alcohol fuelled state, I had enough smarts left to be cagey as to how I was going to play this one out.
Over the course of the night the Minister, as I was expecting she would, decides to volunteer my services off her own bat, as she perceives me to be slightly too cautious and reticent in stepping forward – my " I have a cunning plan" as Baldrick would say, is coming along nicely. This may have something to do with the fact that I fully understood that to commit to being part of any team means you must be absolutely 100% committed and be available at all times. Don't get me wrong here – having last sailed over twenty years ago it was always one of the entries on my "things I must do with my life" list, i.e. get back afloat, but originating in the bog (all my sailing was out of Dunmore East), not being personally acquainted with a boat owner in the big smoke and more pointedly not having a spare hundred grand to invest in my own big boat (dinghies are for kids and I'm way too young to sail Wags), it was always more a desirable objective rather than a probability.
Having been volunteered by the Minister (result – I love it when a cunning and devious plan comes off), I readily agreed to join the crew happy in the knowledge that when the reality of my being a crew member, and the commitment this would entail, eventually dawned on her, I would have the high moral ground and would quite reasonably point out that she herself had encouraged my participation and it was now a bit rich to be giving out as to my continuous weekends away on ISORA races. And, in fact eh, as Bertie was known to utter, this is exactly how it panned out. Except of course the small matter of the Skipper failing at the time to point out that I would actually be joining up to a Presbyterian Gaeilgeoir Sea Scout cult – ach sin sceal eile.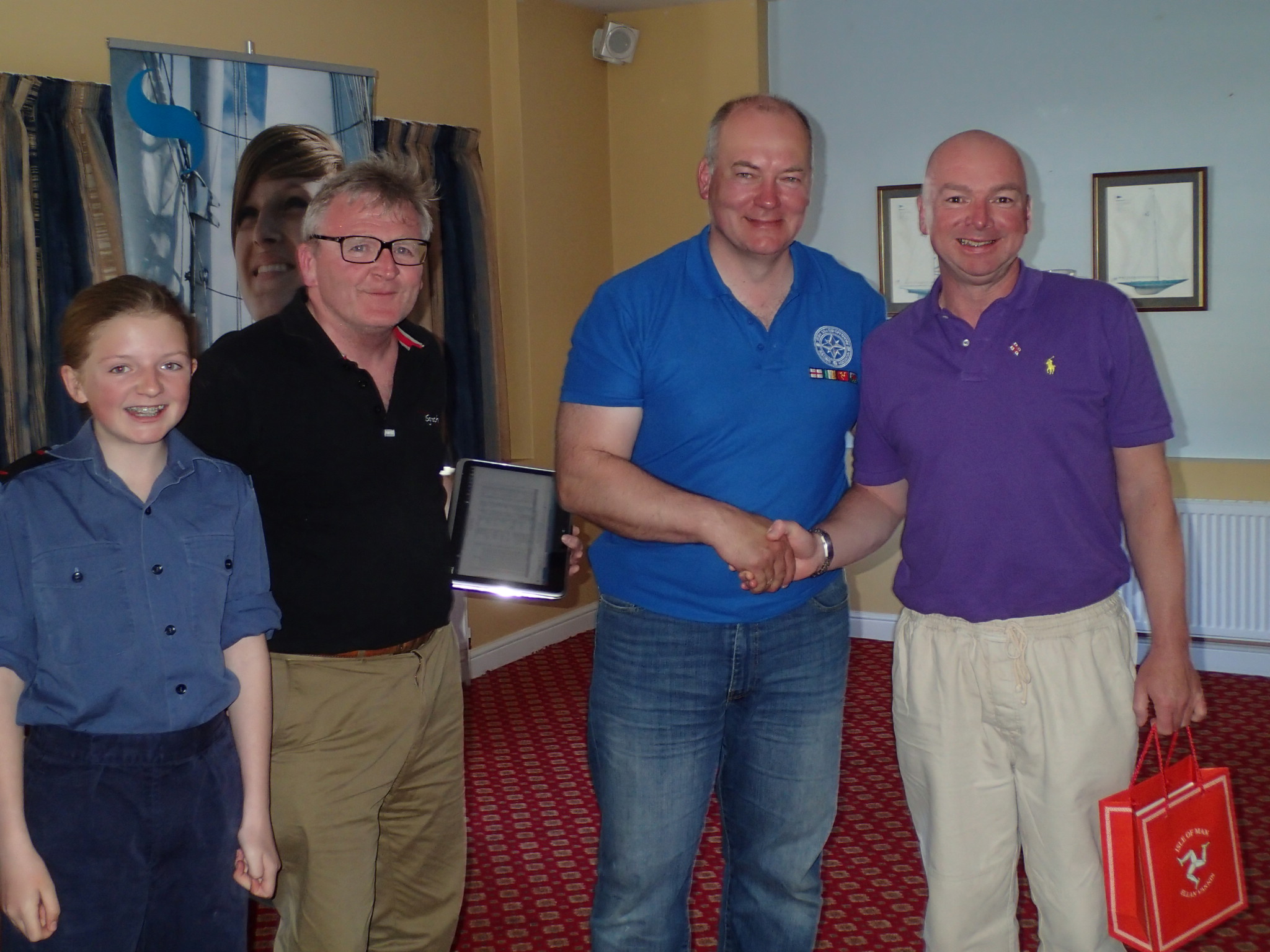 So 05.30hrs Friday saw me slipping quietly out the door with the stealth of a cat burglar heading off on "not another bloody sailing thingy". An uneventful delivery trip in the company of Lula Belle (just in front of us all the way – can't even catch the bastard on a delivery trip under engine) and Desert Star astern (did I hear Ronan O Siochru just got married? If so, then congratulations young man) saw us join eighteen others on the start line in Holyhead in light fickle winds for the long overnight race to Douglas. As we all know light airs bring out the truly gifted sailors and tacticians and it was under these testing and trying conditions that we had a fantastic battle for nigh on eighteen hours with competitors criss crossing each other all night. We ourselves had a great personal battle with our own long time nemesis Polished Manx (the GBR registered Sigma 33 – sorry mate I just couldn't resist that one and as an Irishman I know all about the British claiming us when it suits them), with Grant and I on respective helms as we crossed in front, then behind, then in front again all evening until finally, thinking we had them, they slowly pulled away into the distance and ultimately achieved a fantastic fourth overall as well as first in both Class 2 and Silver fleet. As Jim Diamond sang back in the early eighties "I should've known better". Kuba always wins in the Isle of Man. Congrats also to Chris and his crew on Aurelia who fairly romped away from the fleet attaining both line honours and outright victory on corrected time. Very impressive performance from the new to ISORA J122 and certainly they now appear to be the one's to beat in this years series.
But here's the thing about that first race. Forget your romping away with victory. Forget your holes in the wind. Forget 360 degree circular turning in a pond like sea. Oh no, this race was memorable for more than just the race itself. Consider this. A certain crew member casts off your lines from the Dun Laoghaire pontoon and announces his retirement to his bunk for a short nap. Fair enough – it's only the delivery trip. Said crew member stays asleep below for seven hours only waking on hearing us tying up in Holyhead. Joins us in the sailing club for a quick pint and engages with us in a nostalgic discussion on seeing Kuba's stash of Spam and Frey Bentos pies being packed in a sealed container and loaded onboard for his own personal delectation later that evening. Spam and Frey Bentos pies? Now there's a blast from the past.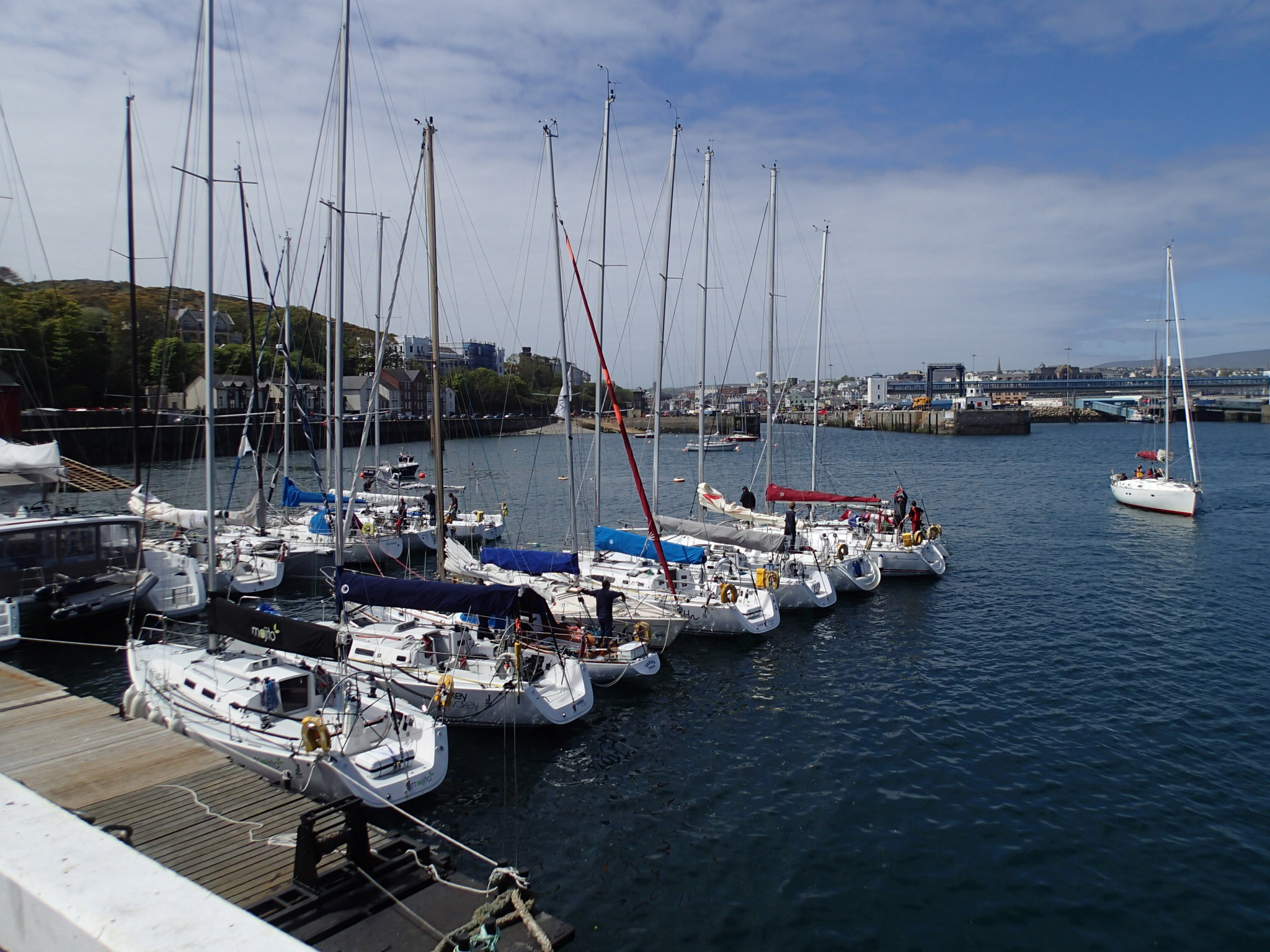 Anyhow, we were graced with said certain crew members presence for the start (blessed are we amongst sailors), bid adieu to him for another short nap (two hours), welcomed him back for a two hour spell early morning before he disappeared down below for another little snooze. For SEVEN Goddam hours! To be honest if I was him I would be quaking in my sea boots that nobody either (a) noticed he was missing or (b) could be arsed to wake him up. Methinks he was on the wrong boat perhaps and should jump ship to the more aptly titled Wakey Wakey? So you can forget your Robin Williams in his "Good Morning Vietnam". No, our beauty finally surfaced on the approach to the inner harbour in Douglas to a collective roar of "Good Morning Kilcoole" and I have it on good authority that already, eight months out, Paddy Power has the bould Domhnall O Donnachda as odds on favourite for next years Oscars. Sorry Domhnall, did I wake you up there?
The evening bar b que in Douglas SC with the effervescent Mr. Szymanski doing his very best Jeremy Paxman forensic analysis of the race via Yellow Brick, as well as the Sea Scouts presentation of alternative awards (well done Billy Coyne winning for being youngest crew member in the fleet – start them young Liam, you're dead right) led to a great evening with some tired and emotional stragglers staying late into the night to milk the giddy yet jubilant atmosphere. A 05.15hrs bridge lift was probably not what the doctor ordered the next morning though. About the only thing Kuba couldn't organize was the tide but you'd never know next year….
No matter, the sight of twenty two boats charging and barging around the start line at 06.30hrs in twenty plus knots of breeze must have been an awesome sight to any early rising Manx residents. Certainly it must have been the most exciting ISORA start line in many a recent year. And Lordy Lordy but it was a day for Yahtzee. In seven seasons I have been waiting for a day like this akin to a prisoner awaiting freedom after years of incarceration. It was going to be our day – no doubt about it. Take steady wind of over twenty two knots, a fetch with a straight line drag race to a long distance finish line (230 degrees on the compass anyone?) and Yahtzee comes into her own and could win the whole shebang outright on corrected time. Seven years waiting. Forget your "It's Coming Home" and it's "three Lions on a shirt, Jules Rimmet still gleaming, no more years of hurt, no more need for dreaming" rubbish, Yhatzee is finally "coming home" and going to not only win it's fleet and class but Goddamn win outright for the first time ever. Someone call our SLAP's (Sailing Lovers and Partners) and tell them to get the Champers on ice down in the National quick smart.
We charge over the start line second in the fleet, after a while we level with and start to inch past Mojito (yes it's a J109 and yes we are giddy). Vicky starts to luff us up, as you do, but Peter roars quite clearly to her "Why bother?" and they let us slide past as they bear off. Did that just happen? Giddy has now been replaced by dizzy. Off we hurtle further down the Irish Sea at nine knots and end up in a great match race with Andrew and Mary on Jedi. Another J109 but at this stage it's kinda like "Phhft, what's the problem here"? So we slide past them and settle down to sixth place on the water (hello?) and begin to wonder will we take a days annual leave tomorrow because at this stage tonight's celebrations will make the referendum victory hooley seem like a child's christening gig. Polished Manx is six miles behind us – SIX! Oh man are we going to enjoy tonight. We so deserve this after all these years. Can't wait to cross that line. We might get in Afloat. Will David O Brien in the Irish Times mention us next Friday? Jaysus this is mad stuff! And then it happens - our bubble bursts.
The wind starts to drop – are you kidding me? Not here, not now, please don't do this to us. Almost imperceptively at first but gradually it becomes more apparent. Not a huge drop but a drop from twenty five to twenty knots is enough to rob us of our advantage while at the same time putting the J109's back in command. Ruth and Sgrech who were just in front of us start to inch further away. Oh no, we're sweating now like Josef Fritzel in MTV's "Cribs". Then Jedi catch and pass us. Desert Star slides past too. We are sick. Devastated. Angry even. This is so unfair. But, this is sailing. It is what it is. How many times has this happened before? Should have expected it. At this stage and with our luck it'll probably die off completely and we'll end up being passed by everyone. No doubt we'll end up in more holes in the wind and now won't get in till near midnight like usual. Nah, that couldn't happen to us again, could it?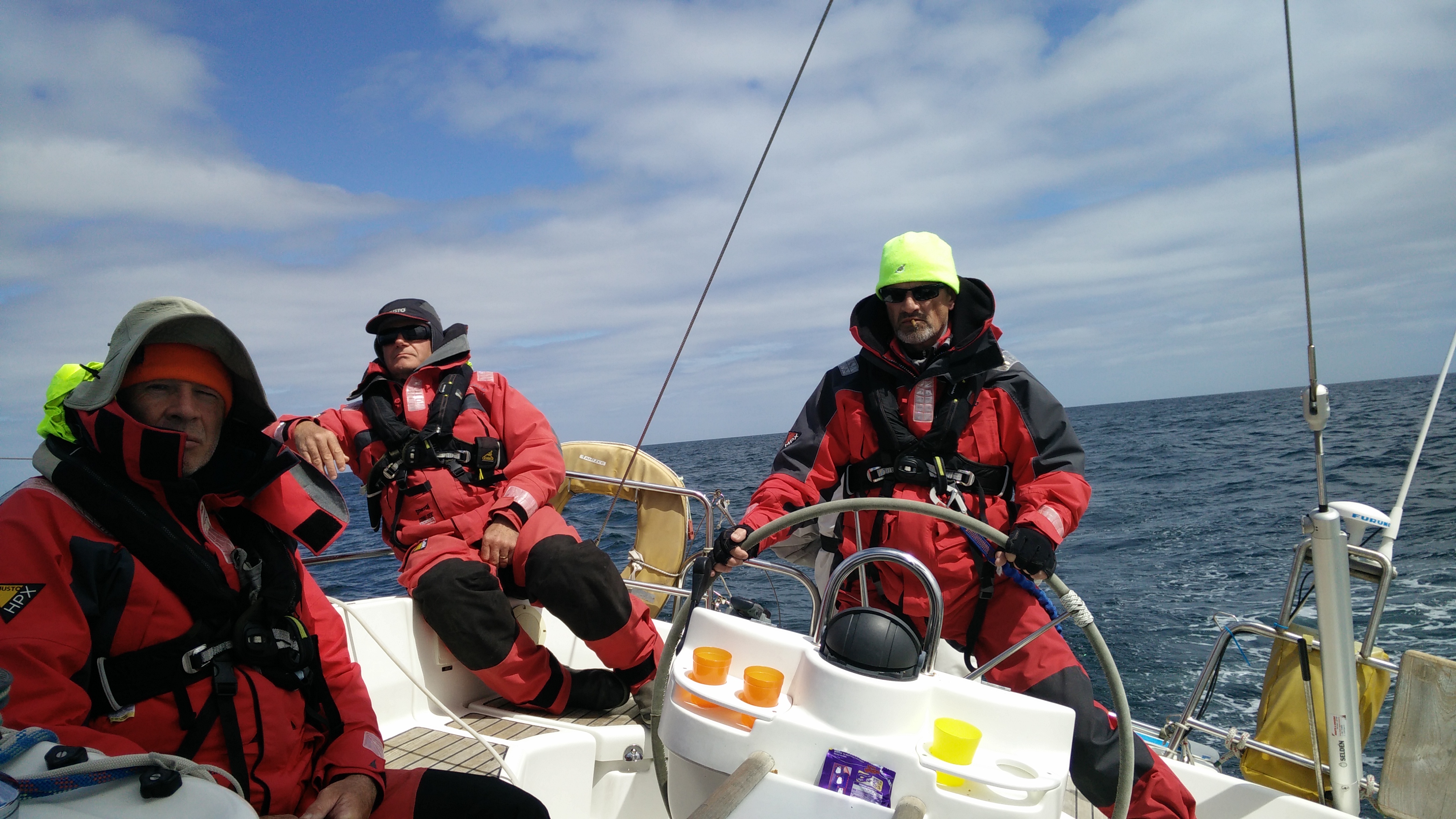 Oh but of course it could and it did. Sat in hole after hole for hours on end. I never want to see Lambay or the Bailey again – saw enough of them for long enough to have each and every contour seared into my memory's hard drive. Shag off islands. Some smart clever famous guy (Einstein) once said "in the middle of difficulty lies opportunity". My arse! That's not how we felt wallowing in circles off Lambay Island.
And so, suitably chastened, deflated, pissed off and miserable we limped over the line in darkness with only three others of the remaining fleet behind us and trudged up to the National for a funereal pint to drown our sorrows. Same old story. But we keep on keeping on and one day, sweet Jesus I hope I live to see it, we will have our day and finally win. Jackknife wins, Mojito achieves a superb second (why bother indeed Peter) and Desert Star takes a brilliant third. So despite our trauma and self pity we reflect on what was for all of us another fantastic weekend of ISORA racing in a series that goes from strength to strength. Sure where would you get such competitive craic, camaraderie and just sheer good times only offshore.
Real Boats Race Offshore!
Fogra – "The pessimist complains about the wind. The optimist expects it to change. The leader adjusts his sails" Quite.