ISORA 2015 Race 3 Dun Laoghaire to Holyhead
"Ah Simon, great piece last week, really enjoyed it. But come here to me, is there any chance you could do a more upbeat happy piece. I mean, Jesus, you're brilliant at the auld misery, you have it down to a tee, hilariously f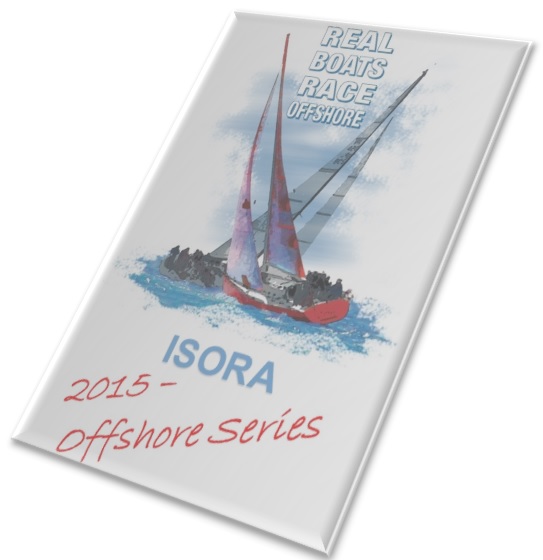 unny, sure Frank Mc Court with his Angela's Ashes is only in the ha'penny place after you. I really look forward to reading your blogs, but d'ya know, how can I put this, if you were to be a bit more, I don't know, positive maybe? It's not all bloody gales and puking and Battle of Balaclavas." Peter Ryan, ISORA Chairman, Holyhead SC, usual corner throne, usual laptop on knee, on his third pint of Guinness, 20.00hrs Saturday last.
"Jaysus, not sure about that Mr. Chairman, sure nobody would be interested in the happy clappy good news stories, now would they? Sure we're goddamn Irish, we thrive on being miserable. As you said yourself didn't the bould Mr. Mc Court make a fine living out of it? Ah, I'm not sure I can do that positive vibey stuff. I'm too old and cranky for that rubbish."
"Ah go on, go on, go on, just give it a shot. The students didn't turn up this week. Something about exams they said but to be honest I think you may have scared the bejaysus out of them. Write something nice and sugary, it was a great race today – really all that encapsulates ISORA was evident out there today. Would you not write about that? Please?"
So that's the main theme of the blog I was plotting in my head on the journey over completely banjaxed so. You see "I had a cunning plan" as Baldrick said to Blackadder. My wife, the Minister (for Home Affairs, Finance, War Office – take your pick really – but she's definitely The Minister) has held this ridiculous notion that all we do when we go "yachting" is rub sun tan lotion on each other's backs as we gingerly sip ice cold Gin & Tonics whilst lounging around in Bermuda shorts and piquet t shirts with collars up. Never been on a boat in her life despite my offering of a berth regularly. No, happy to rise me with ridicule. So as I said, I had a plan. Let's get a mutual friend out on one of these races and he can then report back to SWMBO (she who must be obeyed) of the outrageous peril, the constant putting of one's life in danger, and the sheer rugged manliness of her husband and his offshore exploits.
So under Peter's instruction / restriction, I now can't write about my good friend Ken. Now I can't tell of how at a late September barbeque in Ken's sumptuous newly built abode, I regaled him and his beautiful wife with stories of last season's just completed ISORA campaign and all the bravado filled escapades we experienced. I can't tell of how after the umpteenth bottle of vin rouge in the early hours of the morning I offered Ken a slot on Yahtzee for the following season if he was interested, nor of how he drunkenly accepted. Nor can I tell of how I remembered (and he didn't) that conversation seven months later and told him that Yahtzee (himself included) was off to Holyhead for the next ISORA race on a round trip of about 24 hours. I couldn't possibly divulge how Ken had never been on a boat in his life before but how I admired his bravado at what was akin to asking a novice runner to try a marathon for his very first road race.
Nope, can't tell you of how we scrimped and borrowed his off shore gear during mid week and started loading him up with Stugeron on Friday evening. Can't tell of his wonderfully prescient text message after reading the previous weeks piece on the ISORA website "Jesus, what have I left myself in for?" It's a pity I can't tell of how he was really having a blast, the time of his life, as we stormed over the start line first of all the fleet, yes first, and hoisted the kite in 12 knots of north westerly breeze for a wonderful broad reach heading 90 degrees on the glass as we made for Holyhead. Nor of how the whole fleet fell into the eerily accurately predicted hole in the wind after four hours and how suddenly the life was sucked out of the race (and poor Ken!) – like taking a pin to a balloon. The slop in the sea was the perfect ingredient to conjure up exactly what I didn't want for my buddy. So I can't tell that as I watched him out of the corner of my eye as the sails slapped from side to side, seemingly begging for a tiny zephyr to fill them and ease their painful thrashing, which sounded eerily like an old wan beating the dust out of some old rug hanging on the clothes line out in her back garden, while the boat rolled wildly from side to side in the slop, he went uncomfortably silent and I knew he was in the process of re-evaluating our friendship.
I can't tell of how he eventually succumbed to the dreaded mal de mer but recovered admirably to share a quick pint and a laugh later in Holyhead Sailing Club before we hastily departed for our return trip home in an effort to outsprint the forecasted upcoming big blow. Nor of how he experienced the rush of the blast home across the Irish Sea, running at 9 knots whilst heavily reefed for comfort, a pitch black night sky with only the phosphorescence leaving a twinkling trail behind us in 30 knots of warm southerly as we raced home in a record 7.5 hours. Pity of course that he spent his watch on the leeward side regurgitating the fine Welsh Guinness but never once complained nor shirked his responsibilities. Nor can I mention how I have never seen anyone so happy to set foot on dry land in all my life. Nor of how I never cease to be amazed by those who get sick yet always, always, pull their weight and suffer on in silence. Pity too that I can't mention, without being patronising, how proud I was that he stuck with it, refused the offer of taking the Stena ferry home and despite being horrendously ill on both legs was anything but a passenger on his maiden offshore voyage. Nope, I'll mention none of that as Peter advised me to try some positivity. Pity, that – it would have made a good story.
S

o here's what I will say. Yellow Brick! Yellow Brick trackers for ISORA, kindly sponsored by Liam Shanahans "Avery Crest Ski Chalets Meribel", means final overdue recognition that our series is now right up there with all the big offshore races and series worldwide. Yes baby, worldwide! As they would say down Meribel way - nous sommes arrive - ISORA has arrived. Bloody brilliant, that's what that is. Good on you Liam.
And, as if in some kind of homage to our new found credibility, we only get a race that was, in fairness, just as Chairman Ryan aptly described – everything that encapsulated ISORA was evident on the day. A downwind start, not unusual in our offshore series, saw kites raised straight after the start line. A split in the fleet – Lee Overlay Partners and all the J's going north, using the tide, hoping to arrive in Holyhead just as the strong tide turns and drags them in between the Holyhead piers. The outstanding sight of three J 109's Mojito, Ruth and Sgrech match racing right across the Irish Sea with nary a boat length between them until Ruth finally breaks clear a couple of miles from the finish, but unable to catch the impressive Bam who finished second although, it in turn, a long way behind the Cookson 50 Lee Overlay Partners who was nearly back home in Dun Laoghaire before the last boat finished. The likes of First of September, taking the rhumb line, staying with the J's all day until they just fell off in the last hour or so. Great racing.
Yes this day had it all. The obligatory, for ISORA, lack of wind in the middle of the race, sent to test nerves and ability before filling in again to provide the means for a competitive finish. The also obligatory "where exactly is the finish line?" calls over the VHF to race finisher, the ever present Dawn Russell of Holyhead SC. Our being pipped on approach to the line by both Windshift and Rebellion to leave us disappointed after such a promising first half of the race. Oh well. "Ever tried, ever failed, no matter – try again, fail again, fail better." The swift pints in the clubhouse before scrambling rapidly down the marina to hastily depart before the forecasted oncoming southerly gale blew in. The gale blowing in early to give an exhilarating return journey. Yes this ISORA race was a typical adventure that, as usual, had something for everyone in the audience.
And if you think this was a great day out with ISORA then just you wait for a fortnight's time. The now annual Isle of Man race weekend sees a night race from Holyhead to Douglas on Friday night, a full afternoon and evenings R'n R in the splendid company of "you know who", and a race back home to Dun Laoghaire the following morning. This Isle of Man weekend is turning out to be the Cheltenham Festival of ISORA racing and is definitely one not to be missed. Will the college kids resurface? They should do if they want a weekend to never forget – Kuba promises! Look folks, as Ratty said to young Mole in the classic "Wind in the Willows" about the beauty of all things boating "Believe me, my young friend, there is nothing – absolutely nothing – half so much worth doing as simply messing about in boats."
Not sure my buddy Ken would agree though!
Real Boats Race Offshore!
Read more of Simon's articles here