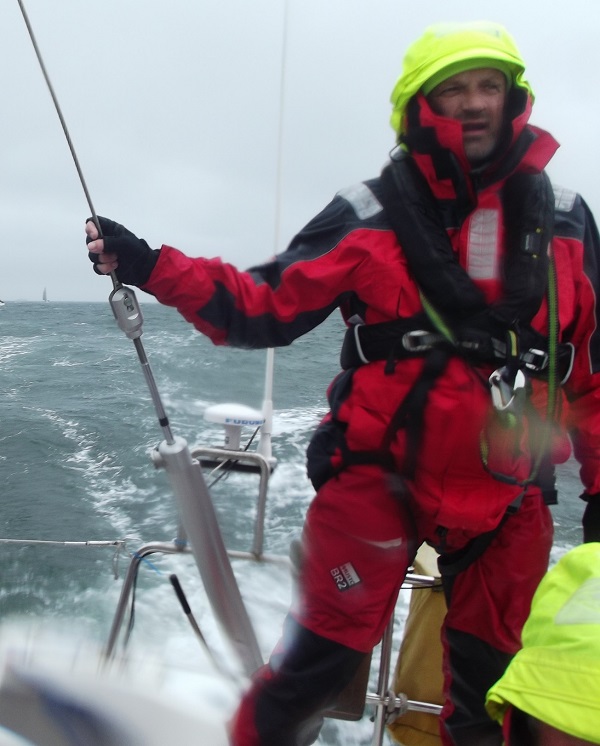 Author - Simon Byrne
"Half a league, half a league, half a league onward, all in the valley of Death, rode the six hundred." (Alfred, Lord Tennyson)
Saturday last saw the start of yet another ISORA season and with all due apologies to Tennyson it really was like sending the troops headlong, against all the odds, into battle in the Crimea. The sympathy, nay pathos, felt by ISORA Chairman Peter Ryan (a rare non participant on the day) as he waved off the 19 boats to the start line with a "good luck men" must have been eerily similar to that of Lord Tennyson when he wrote the classic "Charge of the Light Brigade" which pulled absolutely no punches as to the horrors of war back in 1854.
With a selection of weather forecasts doing the rounds that morning, the only certainty was that the weather would be uncertain – welcome to Ireland. Pick any of the 32 points of the compass and you could likely find a forecast site predicting the wind from that point. What was patently clear and obvious, though, was that it would be wet and freezing cold. Wind direction and strength was an altogether different prediction.
Leaving the harbour was an achievement in itself due to the severe squalls scuttling across the usually sheltered haven. Adelie barely made it to the harbour mouth, having already been caught out unexpectedly and nearly sideswiping the marina in a violent gust, before their kicker decided today wasn't a good day and swiftly exploded. Another competitor, it may have been Aurelia although I am open to correction, hoisted their mainsail and instantly ripped it, whilst the bould Yahtzee returned swiftly back into the harbour to readjust a faultily rigged main before venturing once more out to the cold black sea of the starting line. Clearly it was going to be one of those days (again!)
"Forward, the Light Brigade!" Was there a man dismay'd? Not tho' the soldier knew, someone had blunder'd: Theirs not to make reply, theirs not to reason why, theirs but to do and die: Into the valley of Death rode the six hundred."
Into the valley of death indeed. The usual suspects, annual suckers for punishment, were in attendance swarming around the start line to be joined by some welcome new competitors – Conor Fogerty in his new Jeanneau 3600 Bam, Kenny Rumball in the INSS newly purchased Reflex 38 Lynx and the monster Cookson 50 Lee Overlay Partners which was the obvious favourite to attain line honours. Also back after a years absence (the small matter of training for and then winning the Sovereigns Round Britain & Ireland race had kept him from competing last year) was Liam Coyne on a fully crewed Lula Belle – nice to have you back Liam, but the "love in" is now over buddy and you'll have to work your socks off to win this series!
As the boats jockeyed for position in Scotsmans Bay one notable absentee was Polished Manx. Where was Kuba? Regular readers of these ISORA blogs will be well aware of both the incredible stories that surround Kuba Szymanski on Polished Manx and also the high esteem he is held in amongst the fleet. I got thousands or words out of Kuba and his escapades last season and I don't see any reason to stop now – sure Kuba is like the gift that keeps on giving for a blog writer. And boy did he not disappoint last Saturday.
It was Churchill who once said "attitude is a little thing that makes a big difference" and one wonders does Kuba use this as his motto. Polished Manx was indeed a tad late for the start line having undertaken a 19 hour delivery trip down from the Isle of Man with 5 on board, of whom 4 were seasick, collected a further crew member Grant Kinsman (previous owner / skipper of Pippa V) off the committee boat, started the race some 10 minutes behind the fleet in the company of Wakey Wakey who was also delayed getting out from Poolbeg YC, suffered 3 broaches and just the one Chinese gybe, completed the race and returned back to the NYC for pints and chat before setting back out to sea for his 15 hour return journey to Douglas – this time with only 3 on board as 2 crew members wisely (?) jumped ship for the safety of an Aer Lingus flight back to Ronaldsway Airport rather than suffering all over again. Will they ever be seen aboard Polished Manx again? Me thinks not.
I mean seriously – the gift that keeps on giving! I therefore make no apologies about always seeming to include the antics of our beloved Polish / Manx cousin in these blogs. To those of you I have not yet offended? Please be patient, I will get to you shortly!
After a beautifully long winters hibernation of mulling over last seasons competitive adventures, reminiscing in the true spirit of any retiree (the longer I'm retired the better I was!) an eerie sense of foreboding was certainly evident in our crew as we jostled for position at the mark end of the line and made a great (for us) start in 25 knots of ice cold Northerly as we screamed down to the Muglins on a reach. Just to complete the climactic ensemble it started to rain stair rods which gave the impression of Jockey Wilson firing his tungsten tipped darts into your delicately Nordic white skinned visage as you valiantly attempted to hide any exposed skin – oh yes, the joys of offshore racing in Ireland in April. How could we have been so naive to forget this pleasure?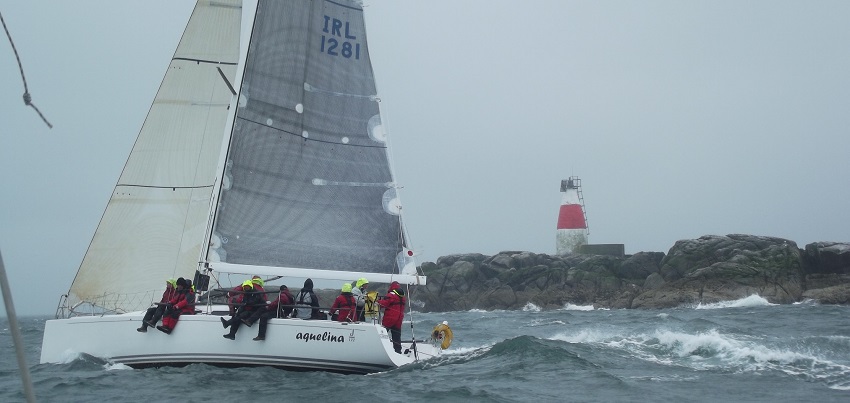 The big boys, Lee Overlay, Ruth, Bam and Lynx took off like the proverbial bats out of hell whilst Aqualina bravely but ill advisedly hoisted their big purple Asymmetric before swiftly lowering it again and setting off in pursuit of the other hotshots. Back at the ranch meanwhile, in the body of the main fleet and with the wind now a steady 30 knots, we shiveringly soldiered on with fingertips, exposed from pseudo go fast racing mitts, starting to get seriously cold and numb, dejectedly knowing that some competitive bastard on our crew (good man Henry!) would no doubt insist we hoist our own kite once we rounded Muglins and headed off on what was sure to be a roller coaster dead run towards the Breaches mark off South Greystones. So much for a season opening "softenerupper" of a jaunt down the East Coast.
"Cannon to right of them, cannon to left of them, cannon in front of them, volley'd and thunder'd; storm'd at with shot and shell, boldly they rode and well, into the jaws of Death,
into the mouth of Hell, rode the six hundred"
As the leaders passed the Muglins the inevitable hoisting of the coloured stuff occurred. As we approached this point of no return in the main body of the fleet I pensively wondered to myself if I was the only one remembering that we broke two poles last season whilst quietly and inwardly chanting my own little manta "please don't put up the kite, please don't put up the kite." So of course we put up the feckin kite. It was, I can only describe, like trying to wrestle a Rottweiler while spinning around in the tight environs of your bog standard family washing machine. Eventually we sort of tamed the beast (sort of) but it still felt to me that, while we were semi out of control yet exhilarated at our surfing at 12 knots past Bray Head and on towards my hometown of Greystones, the real problem was going to be getting the bastard down. And it was a big problem. And we broke another pole (is three broken poles in 10 races a record? I feel a letter to Sir in the Irish Times in the offing).
No matter, that was only the preview. The main event was about to happen as soon as we rounded the Breachers and hardened up for the long beat to first East Kish and then the Kish itself. Two reefs in the main and two in the jib for control and stability would, you would think, make it reasonably comfortable for this long hard homeward bound slog? Eh, no. Sweet Jesus but 30+ knots, on the nose, in freezing cold Irish April, with driving icicles (I swear the rain was that cold it was frozen) threatening to strip the tiny bit of exposed skin off your face is neither comfortable nor a sane way to voluntarily pass a Saturday afternoon. But oh, fan noimead, it get's better. Rounding the mark and hardening up was like flicking a switch to reintroduce our long lost friend – sea sickness.
"They that had fought so well, came thro' the jaws of Death
Back from the mouth of Hell, All that was left of them, Left of six hundred."


We had aboard, like most competitors had, a member of UCD's sailing club who were part of a novel new idea to get younger sailors out offshore and experience the real joys of offshore racing in a competitive environment. No doubt they had all innocently spent the winter watching the Volvo Ocean Race on TV thinking "yeah dude, I could do that man, it'll be awesome. Let's do some offshore man, we're so hard". Hmm.
Our offshore virgin was Oisin and God love him but he got some introduction. A very competent sailor, he really was a great asset and addition to the crew on the roller coaster ride down to Greystones although he probably, in hindsight, wishes he had worn a bit more kit. When the call came from the skipper for volunteers to go down to pack the kite as we rounded the mark, the wise old sages of the regular crew buried their heads in the neck wear of their Musto MPX's whilst also suddenly fixating on an imaginary point on the cockpit floor. No way was any of us old timers heading down below – are you mad? Poor young eager Oisin naively volunteered (or was volunteered) and headed down below with our own young Ben Mitchell - the folly and innocence of youth. Fair play they got the kite bagged but then rapidly split up – one to hang over the rail recycling his breakfast whilst the other undertook some unwanted interior design by pebble dashing the heads. God love poor Oisin but he actually turned green - in fairness he later recovered his composure and returned to duty so in that respect he is more than welcome to come again – good on you Oisin! I bet, though, he wished he had just stayed at home on dry land and did the offshore thingy on his Xbox instead – would have been much more awesome (dude)!
So thereafter followed about 4 hours of tacking across outrageous overfalls on all the banks up the East coast ( Codling, Bray and Kish), trying desperately to not get sick, to not go overboard and to not lose ones fingers to frostbite. Eventually, as we approached the Kish, the wind eased to a respectable 20 knots and we had a relatively uneventful broad reach back to the finish in Dun Laoghaire. Lee Overlay gained line honours, Ruth won on corrected time, Kuba got in before dark, Oisin recovered his composure although he unsurprisingly declined all offers of pints in the NYC and Yahtzee won Silver Fleet – go us!

Like all hard races, it was great once we were ensconced in the relative safety and warmth of the clubhouse but trying to explain to family and friends that it was great craic and we do this for fun was just pointless. The following day was completely lost to me as I felt I had done 10 rounds with Mike Tyson – pain in muscles and joints I didn't know existed. As tough a race as I have done in years but beats the hell out of sitting on the sofa or trudging around Dundrum Shopping Centre of a Saturday, no? So, onwards and upwards to Holyhead in a fortnight. I wonder will the future of the country from UCD return for more?
"When can their glory fade? O the wild charge they made! All the world wondered.
Honour the charge they made, honour the Light Brigade, noble six hundred."
Real Boats Race Offshore! Awesome, dude!
Author - Simon Byrne