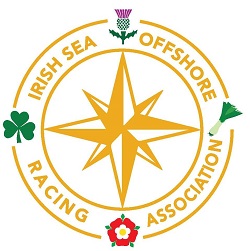 Pwllheli ISORA P2P Coastal Day Race
With a forecast of 5 kts easterlies decaying to just 2-3kts from the north, it was decided that a shortening of the course would occur at the Fairway Mark, if the first finisher passed after 1500.
The day dawned brightly, and with a smaller than expected fleet milling around the start line, Robin Evan started the fleet for a windward leg to number 10. This small number didn't stop a "competitive" start between Jackknife and Sgrech! We enjoyed watching that!
A kite run down from PSC 10 to St Tudwals in light winds, was reasonably straight forward with just two gybes and it was enjoyable for us to be in close proximity of Pleione of Dee; great to have the company Derek! Now Pleine is a nice looking boat, self tacking Jib, assymetric on a furler, all lines lead back......I'm sure they had a three course meal at some point! I caught Jo downloading the Selden catalogue later on!
A tense moment in the wind shadow of St Tudwals and a nice reach to Carreg Y Trai and then it happened....The wind backed slightly to the North and dropped! Darn it! Any way the fetch back to the ODM was challenging for us, but at least we could see the leading boats rounding the fairway, so boats still moving and the race not shortened. We found short tacking and staying close to the beach at the west end of Pwllheli gave us a better tide, slightly more wind and a nice view of the beach activities! With great relief for the fleet, the wind seemed to veer back to the east and built a little as we approached the ODM, the leading boats had finished and we still had to get through 100 dinghy's to the fairway buoy, and round for a final spinnaker run to psc 4. Rounding the mark a decent fetch back to the finish line at Plas heli with great relief for all on board that the wind didn't drop. It was great to have a Pleione of Dee as company for much of the race and after 6 hours we were separated by 30 seconds on corrected time! Jackknife took line honours and the race win, Sgrech second and Aquaplane third.
A great days racing around the Bay, and we look forward to the DL race next and more bay races next year.
----------------------------------------------------------------------------------------------------------------------
The results are posted on the ISORA web site here
Congratulations team Jakknife
---