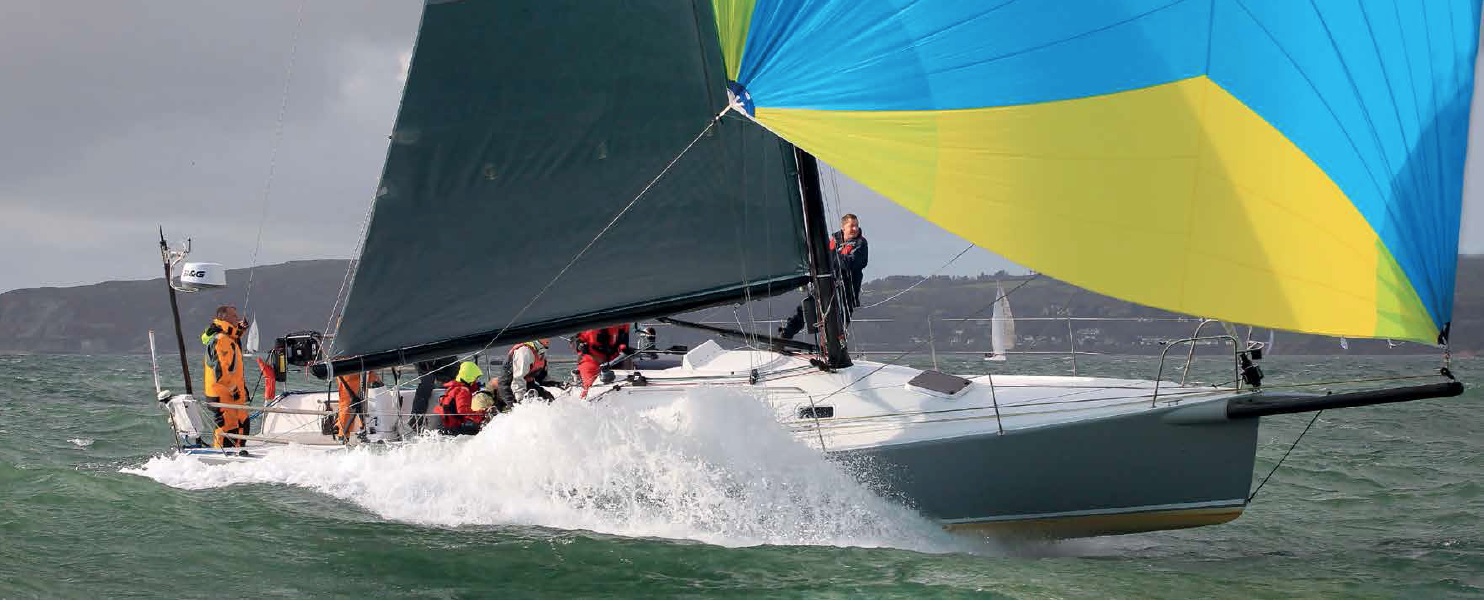 Pwllheli P2P race and ISORA race 2 23/4/16
PSC2 – Ynysoedd Gwylan - Causeway Buoy - PSC2
A view from Aquaplane!
A midday start was planned to cater for both tides and the forecast, which showed a northerly flow 10-15kts. Excellent sailing conditions in Cardigan bay.
The day dawned brightly, and the wind built as forecast, giving all 6 boats a decent start with a reach to PSC 2 West End mark. We like reaching legs on Aquaplane….we can keep up! Round the mark it was spinnakers up for a nice ride down to St Tuds..
Jackknife was it in its element and shot off like a cork out of a bottle. We never saw her again!
During the hoist we narrowly avoided Mojito's transom and heard some "encouraging" advice from its skipper to the foredeck crew, who were valiantly attempting to sort out a spinnaker issue. Must have worked and normality resumed, Mojito and Sgrech then raced closely separated by only a few boat lengths, which went of for the next 4 hours. We had a grandstand seat and enjoyed the view!
Round the headlands and into Hells Mouth, we elected to drop the kite and reach across the bay. We were very pleased we did as we observed one of the J109's broaching! Approaching Gwylan islands, the two 109's went inshore…we elected to stay out and keep close to the islands, the tides were very strong, and I had made the wrong call! Luckily we got through the disturbed water and round the islands nicely and had kept up, with Sloe Gin not not far behind .
It was vital we got a good spinnaker run down to Causeway Buoy to keep up the pace. A disastrous hoist put paid to that plan, and a tense 5 minutes unfurling the sheets that had wrapped round the furled spinnaker, eventually discarding one of the sheets we got it up and we were away. The screeching gulls taunting me again.!
Another great view of the two J109's under spinnaker and time for a cup of tea, with a chance to admire the spectacular scenery and enjoy a wine gum. The last mile running up to the causeway buoy were a bit edgy for us, and after a near broach we elected to drop the spinnaker.
Round the mark a long beat to PSC number 2 . …. Pointing has never been our greatest strength, but we pulled everything in we had, and were pleased to maintain the gap on the 109's. It was now about the tacking and the tides. The water eventually flattened and the J109's accelerated ahead. We watched Jackknife finish on AIS and beated on relentlessly.
Boy it was cold! We enjoyed watching the tactical battle to make the final mark between Sgrech and Mojito and finally finished 20 minutes behind them.
An excellent race, with stunning scenery, pods of Dolphins accompanied the 109's (we didn't see any! Typical) and a great night in the Plas Heli bar afterwards discussing the race, and the ever increasing number of dolphins as the night went on! (100's according to Arfon!)
A fantastic days racing in Cardigan bay, great to see a new boat (Prada) joining in and congratulations to Jackknife for a perfect race and thanks to Robin for race officer duties.
We look forward to our next ISORA race!