At the time of writing, seven of the ten races have taken place in the 2012 ISORA Offshore Series. Unlike the misfortune of much of the inshore racing this season, no race has had to be cancelled and all races had finishers.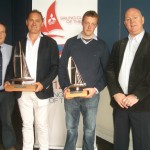 Despite a general levelling off in numbers of entries for races, the Night Race in July had a record 22 starters on the line and all finished. There is a definite increase in interest in the long day races from the normal "Bay racers". Some of our regular boats did not race this year due to damage. Our current offshore Champion, "Raging Bull" was badly damaged soon after launching in April.
The next race to the M2 buoy has always been the most popular and it is hoped that it will continue to attract the great numbers that turned out for the Night race. The series end with the traditional "James Eadie" race from Pwllheli to Dun Loaghaire. A end of season late night party is planned for the finishers of the this race, weather permitting!!
The results in 2012 has been dominated by the "J Boats" – "Sgrech" from Pwllheli, "Joker 2" and "Jedi" from Dun Laoghaire and "First Boats" – "Adelie" and two-handed "Lula Belle". "Sgrech" is presently leading the series for the coveted "Wolf head Trophy" followed by "Joker 2" and "Adelie". The Silver Fleet has been very successful this year. "Lancastrian" has a very strong lead in the overall for this fleet.
For the first time in many years a race was sponsored. The race from Pwllheli to Wicklow in June was generously sponsored by lynx metmAsts who kindly donated an additional trophy for the winner. The winner of this race was the two-handed "Lula Belle" and the trophy was presented to Liam Coyne and Brian Flahive. It is hoped that lynx metmAsts will continue this successful arrangement next season.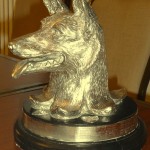 The highlight of the year is the annual ISORA prize giving dinner in the NYC on the 17th. We are honoured that the Commodore of the Royal Dee Yacht Club, Mr. Derek Mathews, will be attending as guest and will present the champion boat owner with the "Wolf's Head Trophy". This trophy belongs to the Royal Dee whose emblem is the "Wolf's Head". This will be a fantastic night.
New boats are always welcome to ISORA, even if it is just for one day race. Full details can be obtained on the website www.isora.org or contacting me directly This email address is being protected from spambots. You need JavaScript enabled to view it.. Online entries to ISORA can be made on the NYC website www.nyc.ie .
Peter Ryan
Chairman ISORA