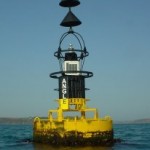 We had a great race last night with 21 boats crossing the start line for the sleigh ride down to North India with wind and tide behind us.
The 15-20 knot west / north west wind provided a spinnaker start at the Pier mark where Commodore of the Royal Alfred Yacht Club, Barry McNeaney sent the 21 boats off racing toward the Muglins. On route to North India, the wind veered left to right and from 10 knots to 20 knots. At the North India there was a strong south going tide that swept the fleet past the mark when rounding.
The following two eastward reaching legs around South Codling and East Codling were a practice for the beat to the Muglins and the finish, mostly against the tide.
The clear sky conditions for the race provided a spectacular display of stars and planets to keep crew occupied for the final leg.
The finisher, Peter Rowley was waiting to receive the finishing boats as they crossed the finish line between the Dun Laoghaire harbour lights. "Lively Lady" took line honours. Despite this, the J109's took the wining and second places with "Joker 2" taking First overall and first in Class 1. "Jedi" took 2nd Overall and Class 1 while "Tsunami" took 3rd Overall and Class 1.
"Legally Blonde" won Class 2 while "Adelie" took 2nd place and "First of September" took 3rd place.
In the ISORA series "Sgrech" continues to lead with "Joker 2" snapping at their heels. "Adelie" is right behind "Joker 2". There is all to play for with two main cross channel races take place. The next race is the race from Dun Laoghaire to Pwllheli on the 18th August.
Follow the links below for results:
Race6Class1&2x (html)
Overall after6Races (html)
SeriesTableAfter6Races (html)
SilverfleetRace 6&SeriesOverall (html)