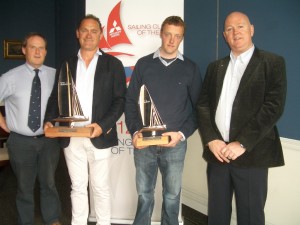 Liam Coyne and Brian Flahive, 2-handed winners of the lynx metmAsts Pwllheli to Wicklow Race last Saturday were presented with the Perpetual Lynx metmAsts Offshore Trophy at the NYC yesterday.
The presentation was made by lynx metmAsts Managing Director, Michael Martyn and his wife June. Liam and Brian were also presented with the lynx metmAsts Offshore Trophy which they can keep.
Over 100 photographs have been received for the lync metmAsts Photographic Competition associated with the race. Due to the huge numbers of photographs submitted the selection process will take longer than expected. However, the results can be expected next week.