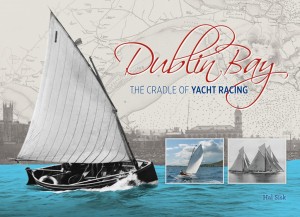 Amateur Yacht and Dinghy Racing
Where and when did our sport emerge?
Who gave the lead?
Who wrote the rules?
Hal Sisk's richly illustrated new book describes how the worldwide sport was first popularised and formatted by the pioneering yachtsmen of Dublin Bay.
ISORA members on both sides of the water can take pride in this authoritative new yachting history drawing from contemporary sources. The remarkable initiatives of the Royal Alfred Yacht Club were copied worldwide. This Dublin club drew members from all around the Irish Sea, and it was the first club to include Offshore Racing as an annual event in its programme, and this continued for 57 years, long before the RORC was founded. The Alfred also pioneered single and double handed racing.
At €15 or £12, "Dublin Bay the Cradle of Yacht Racing is a perfect Christmas present, and is available from Dún Laoghaire yacht clubs, Viking Marine, and directly from www.peggybawnpress.com
[Yachting historian Hal Sisk was Vice Chairman and co-founder with Dickie Richardson of the original ISORA, and he campaigned for many years in Sarnia, Alouette de Mer and the famous Standfast (Champion 1978).]