Vicky Cox delivering the acceptance speech during the Irish Sea Irish Sea Offshore Racing Association Awards Dinner 2017 © ISORA
240 ISORA competitors and guests attended the 2017 awards ceremony and dinner at the National Yacht Club in Dún Laoghaire on Saturday, and were treated to a champagne reception, followed by an outstanding four course meal devised and cooked by head chef Cormac Healy, served with fine wines and Jack Ryan "Beggars Bush" whisky to finish. ISORA chairman Peter Ryan kept the evening on track, with awards of both the perpetual trophies and Crystal glassware to the top three placed boats in all three fleets, plus prizes the individual results for all competitors in the 14 races series which started in April, and culminated in the season defining "James Eadie" 75 mile race from Pwllheli to Dún Laoghaire which this year decided the ISORA overall champion.
It was a great pleasure to see Peter Dunlop and Vicky Cox (J109 Mojito) receive the prestigious "Wolfs Head" Trophy from Peter and Anne-Marie Ryan crowning them 2017 champions
Michael Boyd RORC chairman and ISORA guest delivered a humorous story of how the Lyver Race medallions managed to stay at his house, and generously bought Champagne for all the Lyver race competitors present.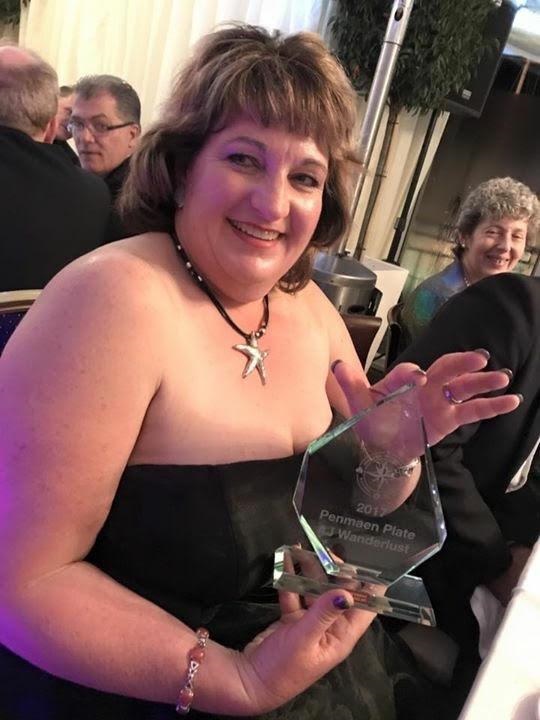 Charlene Howard, Skipper of 'AJ Wanderlust' during the Irish Sea Irish Sea Offshore Racing Association Awards Dinner 2017 © ISORA Other notable awards during the evening were the 2017 Spirit of ISORA "Penmaen Plate" awarded to Charlene Howard who raced "AJ Wanderlust" very consistently all year, often two handed and being based in the Isle of Man faced the greatest number of deliveries. Indeed Charlene and her crew even sailed over for the awards Dinner! Awesome.
The Silver fleet and IRC class 2 was won by Joe Conway in Elandra, and the Victoria Cup team award, was presented to Clwb Hwylio Pwllheli Sailing Club for the highest aggregate club scores in the race series, by Mojito/Sgrech/Jackknife and Aquaplane
Full results at www.isora.org where there is also a link to our 2017 yearbook with race reports and the full results.
It was a memorable evening with the spirit of ISORA in full flow with great plans being made for a bigger and better 2018
Thanks must go to the National Yacht Club Dún Laoghaire, and in particular to General Manager Tim O'Brien and his staff, for the exceptional planning and smooth running of the evening.
Prior to the dinner, ISORA held its AGM where the 2018 rules amendments and racing programme were discussed, and a draft schedule published for consideration. Closing the AGM, Peter Ryan, ISORA Chairman, paid tribute to retiring Vice Chairman Gerry Williams for his tireless efforts in promoting ISORA both as a competitor and committee member spanning 27 years. Thanks Gerry and Gwen for your hard work and support, much appreciated by all connected and involved with ISORA.